While yes, dying my hair pink is most certainly a fun and risky thing, I want to make this about something bigger. For as long as I can remember I have had a passion and heart for Africa. They are my people group. While at the Influence Conference I heard about The Mocha Club and fashionABLE and their work with women in Ethiopia. My heart leapt as I felt God's leading to be a voice for these women. They have been thrown into an unimaginable lifestyle and are faced with shaky, uncertain circumstances every day. These women are brave, they are perfect and they are loved. I want to feel confident, loved, and empowered…enough so to dye my hair pink. I also want these women, deserving women, to have a fighting chance at life. A chance to really love themselves, and know the One who gave His own son as a sacrifice for us (John 3:16).
I believe that God has big things in store and I want to raise enough money to get 4 of them out of the sex industry — bringing them through the entire process of rehabilitation. FOUR women.
When I reach my goal, I'm going to take the risk and dye my hair. I love that I will also have an automatic conversation starter with everyone at the end of this: "Well you see my hair is pink because…"
I am SO excited to be a part of these efforts, and I pray God is glorified through it all!
Will you be a voice for these women too?"
post one - The Pink Project
post two - Meet the Women
post three - Skip the Bucks
post four - Pick My Pink
post five - Not Without Him
post six - The End Stretch
Need a gift for the Holidays, but STILL want to help? Here's your chance!
::SHOP HERE::
*share the news on your blog*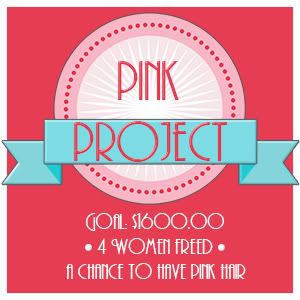 Here's a few tweet options!
* FUN, SCANDAL, PURPOSE, HOPE. It's the PINK PROJECT with @naturallyestes http://bit.ly/PooT5h #pinkproject
#purposeproject
* Let's make a difference with @mochaclub and help @naturallyestes get PINK hair! http://bit.ly/PooT5h #pinkproject
#purposeproject
* My girl @naturallyestes is SO CRAZY! She wants to dye her hair PINK! But did you hear why? http://bit.ly/PooT5h #pinkproject
#purposeproject
* Goal: $1600, 4 women freed, A chance to have pink hair #pinkproject @naturallyestes http://bit.ly/PooT5h
#purposeproject
Donate in someone else's honor? Send them this to
explain what Pink Project is about.
Download Here
**
all donations are tax deductible, you will receive an email with a receipt after donation**